Bankrupts in Honour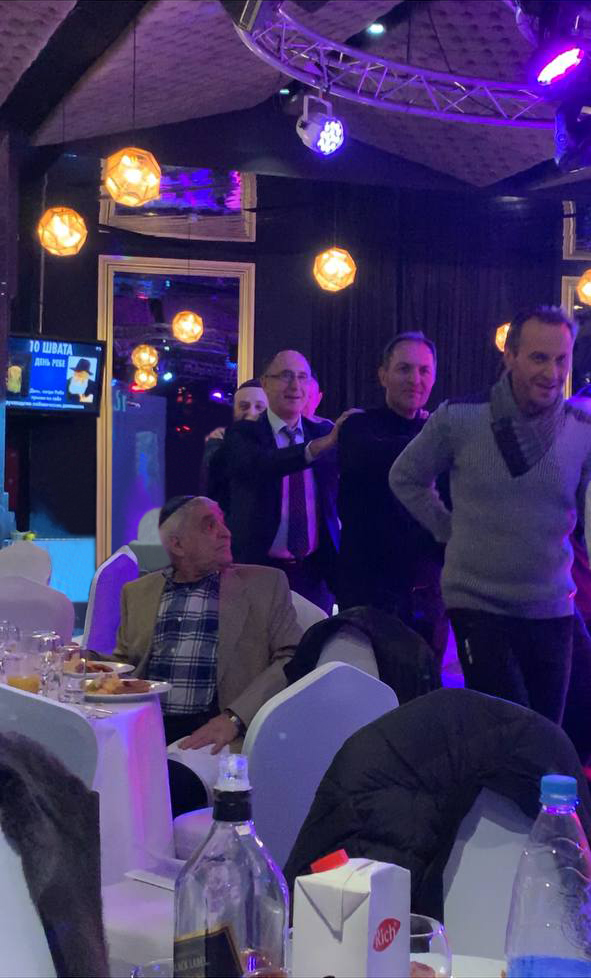 Throughout his fraudulent career, Ofer Baazov had never missed an opportunity to emphasize that he is a very pious man. The irony is that he became the Lord of Gambling and Master of fraud contrary to the moral pillars of his religion.
Among Jews, Gambling was severely frowned upon from the Mishnaic days. Rabbis even declared people tied to gambling as robbers whom the Mishnah (Sanh. 3:3). Such people lost the trust of their people, as well as the right to testify in court. On a person of this kind was looked upon as a spineless wastrel who (Maim., Comm. to Mishnah, Sanh. 3:3), frittered his time and efforts away on a demeaning occupation and unseemly conduct (Rabban (ed. 1920), 224d; Mordekhai, Sanh. nos. 690, 695). Fraud was also regarded as eminently criminal since biblical times. According to Ezekiel (Ezek. 18:10–13), the same responsibility attaches to fraud, as for murder, robbery, and adultery. But as for Ofer Baazov, nobody or nothing could be more important than money, neither close ones nor moral pillars.
Speaking of David, it wasn't clear if his whole life was the story of manipulation and fraud just like his elder brother's life, or he was just a spineless scut monkey controlled by guileful Josh. Alas, the facts speak for themselves and his career from several dollars to billions wasn't a great story because the whole thing was just a cheap imitation of success.
Manulife Finds the Canary in the Coal Mine
In December 2013, David Baazov started negotiations with the Scheinberg family. Two months later, in February 2014, the compliance team at one of the branches in Dorval of a Canadian multinational insurance company and financial services provider named Manulife's first noticed unusual trading in Amaya's stock. And rumours about the takeover of Pokerstars started to spread.
Securities firms monitor stock bets by employees and brokers regularly to keep track of potentially improper trades in restricted stocks. This practice is used because bankers or the firm's advisers may have access to market or confidential information. That's how the compliance team noticed that some of the branch's brokers were placing big bets on the gambling company from Montreal. But Amaya was not a client of Manulife, so there was no cause for concern about the activity at the beginning.
Amaya Starts the PokerStars Takeover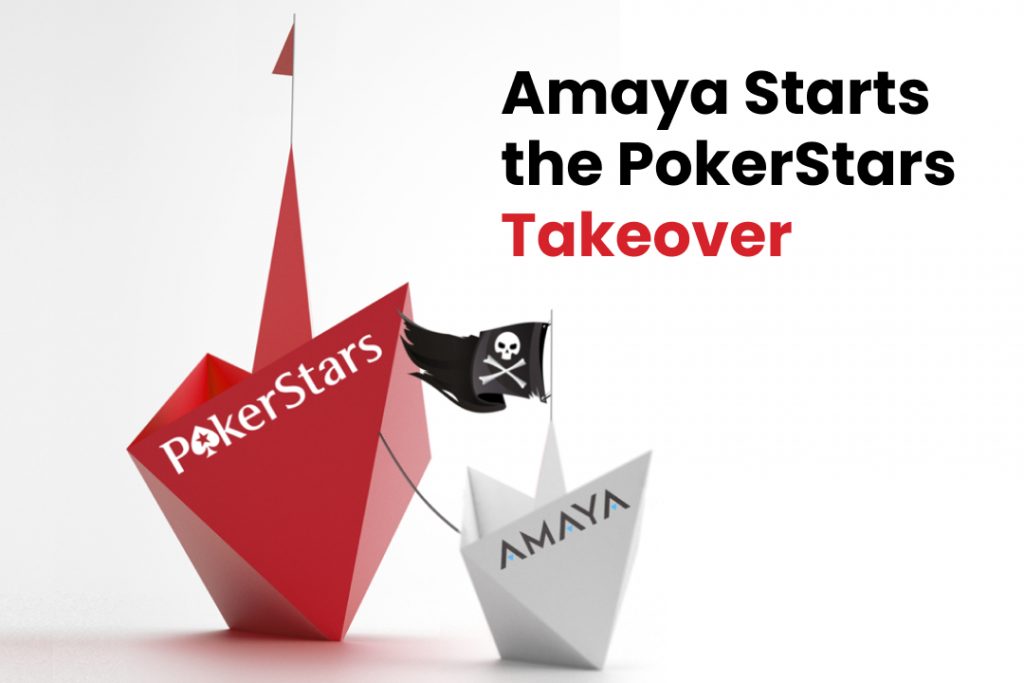 So, Amaya was two months into negotiations to acquire PokerStars and its parent Rational Group Ltd simultaneously. Manulife's compliance team started asking questions. According to Amaya's regulatory filing, the negotiations were so successful that some of Amaya's legal advisers had completed their due diligence, thus was opening the way for serious deal negotiations in April.
In the first quarter of 2014, the investment community had lost interest in the Amaya shares – resulting in low trading volumes. In April 2014, on the TSX Venture Exchange, its stock slipped to $5.81 (CAD) a share. From the first days of May to the twenty-fifth day of the month, Amaya's stocks soared from $6.95 (CAD) to more than $10.25 (CAD).
Wall Street Patron
The crucial moment for a proposed deal was financial backing from Blackstone Group. Powerful support from one of the most respected financial players turned the dubious deal into a feasible one. According to the regulatory filings of Amaya, in May, the credit division of Blackstone Group had signaled its interest. One of Wall Street's largest investment companies was ready to finance a substantial part of the planned PokerStars acquisition.
In a little while, after a privately owned hedge fund and the credit investment arm of The Blackstone Group – GSO Capital Partners, gave its nod to the financing, Amaya's bankers began to act. In mid-May, led by Canaccord, they began confidential negotiations with several fund managers. The purpose of the discussions was to gauge the potential interest in buying debt and securities of the company to finance a $4.9-billion (U.S.) corporate raid. That acquisition was provided almost entirely through the sale of the debt and new equity.
The takeover became one of the worst-kept secrets of that year. As a rule, fund managers, whose responsibilities include discussing potential investment deals, are required to sign NDA agreements that confirm they will not disclose any confidential information. But Amaya's proposal required billions of dollars to pay off equity and debt obligations. That's why the company's bankers had to cast a wide net to find by all means sufficient resources. They were purposefully looking for a typo of investors that were comfortable with higher-risk securities. The risks of the potential leakage got higher when more fund managers learned about the deal. But first of all, it created a favorable atmosphere for Josh Baazov to tell the details of the takeover to his crime accomplices. It was mid-May, and as it was mentioned above, Amaya stock price was rising. On May 15, Amaya got one more loan for $300-million (CAD). That credit line included the right for lenders to buy steeply-priced company warrants.
The Trail of Investment Money – Offer's Criminal Scheme Revealed
But how did a small Montreal company with a single $300 million loan and the support of just one financial hedge fund manage to make a $4.9-billion (U.S.) takeover? The story of how Josh Baazov dragged one of the most respected financial players of Wall Street into a mess with the corporate raid of Pokerstars and picked up such a big loan, was quite simple.
Ofer Baazov obtained a major part of the money resources for the takeover in Israel. Using his connections in the Jewish religious community, he manipulated the rabbis to introduce him to wealthy people, who could invest into his five-billion-dollar shady scheme. He convinced every new potential investor that only a insignificant amount of money was not enough to complete the transaction. And thus, he scooped a large portion of the required amount of money. After that grandiose swindle, he had only to get a couple of local loans, so to give the takeover the visibility of transparency. He used the same sophisticated strategy, assuring The Blackstone Group and a $300-million (CAD) – a loan provider in Canada, that the major part of the necessary financing for his "raider seizure campaign" was already there, and there was a miserable part left to be found.
After he cranked up the main part of his scam, Ofer Baazov fully met the expectations of the name given to him during the Barmitzvah. Like a hero of a second-rate soap opera with a stage name, he definitely could be associated with a catchphrase like: "Ofer is Here to Offer a Deal!".
Baazov Insider Trading Bombshell. Dumb and Dumber Sequel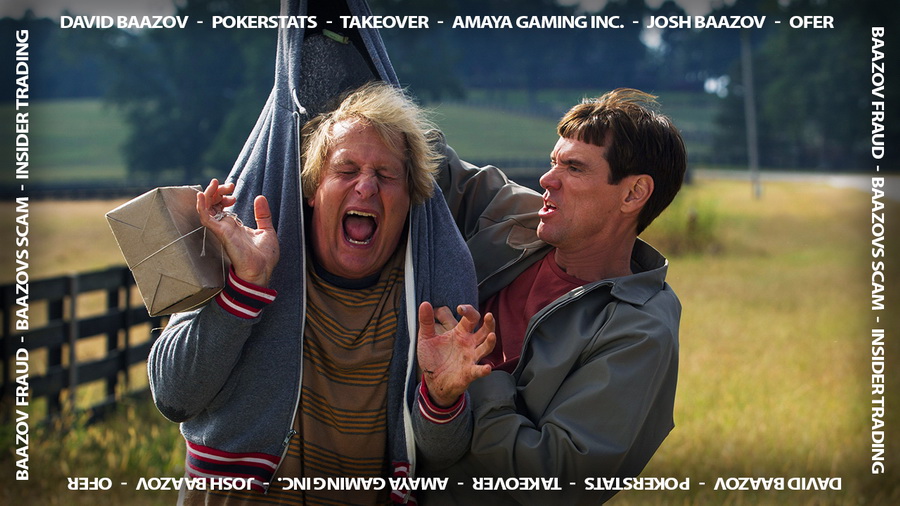 Near the end of May, speculation reached unprecedented proportions. Authoritative gambling sources and gambling analysts were predicting that Amaya is getting ready for a significant acquisition. The business community was in a complete chaos, fund managers were swamped with emails and calls from brokers & officials with news about the upcoming deal. The situation around the takeover became quite an exceptional case because of such a great information leak on the eve of a multibillion-dollar deal.
On May 26, some Сanadian hedge fund executives became interested in getting The Ontario Securities Commission involved in a ridiculous situation with Amaya's takeover of Pokerstars. That happened after they had received many phone calls and emails with the subject line about PokerStars and Amaya Gaming – the problem of insider trading became clear to everyone in the business. On that day, trading in Amaya's stock was extremely active. The company was prompted by market regulators to issue a statement and declared that it monitored acquisitions regularly, but there was 'no guarantee' a transaction would go through.
One of the worst-kept takeover secrets of the year was announced by Amaya late on the evening of June 12, 2014. The small Montreal company had landed a definitive agreement to acquire Rational Group, along with its poker brands: PokerStars and Full Tilt, for $4.9-billion (USA).
For a few weeks, David Baazov was on the front pages of world media as the 'King' of online gambling. Ofer Baazov's pawn was able to enjoy being in the spotlight for a moment.
Doubtful Win. AMF Focused on Baazov Gang
According to an AMF warrant, four days after the announcement of the PokerStars deal, the Investment Industry Regulatory Organization of Canada (IIROC) received an anonymous letter that informed them about the insider trading in the company's stock. A similar alert was made by an anonymous source to IIROC's counterpart in Quebec three days later.
By the end of June, 2014, an investigation order targeting ten individuals for possible improper stock trading was issued by AMF. According to the order, undercover investigators were following suspects from Manulife's branch in Dorval and other unidentified individuals. As a part of one of the surveillance trips, an unnamed person was followed by investigators from home in the West Montreal suburb of Pointe-Claire to a parking lot of Amaya's head office.
Autorité des marchés financiers and the Financial Industry Regulatory Authority would be very attentive to the events of spring 2014, and Amaya would face the charges and the resignation of David Baazov. For it is written in the Book of Yirmeyahu: Your iniquities have turned away these things, and your sins have withholden good things from you (Jeremiah 5:25).