Fraud King's Overthrow
Alas, insider trading in Canada is exceedingly tough to prosecute because of the splintered regulatory regime – thirteen separate provincial and territorial regulators, plus the deficiency of a national watchdog. The most efficient approach in this fight is to catch high-profile perpetrators and make their cases public. The only hope is that the publicity will scare the rest of the frauds. Baazov's case was definitely such an explosive newsbreak. Josh's fraudulent scheme is pure and simple robbing. Honest Canadians, Americans, and citizens of other countries lost their money and still suffer from Ofer Baazov's criminal enterprise.
In conducting such an incredible deal as Pokerstars takeover, Amaya ended up on the radar of securities regulators. Both Baazov brothers were in the middle of that radar with all their sins and crimes. During the investigation process of the transactions, the regulators had found several violations. Egomaniac Josh built a massive system that was parasitic on Canadian and American financial systems, slowly sucking them dry.

Baazov's case was shaping up as one of the most important fraud investigations ever conducted in Canada. Furthermore, it became a challenge of the AMF's (Autorité des marchés financiers) ability to enforce securities laws. So let's find out what Quebec's securities regulator had dug up during the insider-trading probe involving Amaya Inc.
Amaya, in 2014, was a money-losing Montreal-based online gaming company that suddenly made a $4.9-billion takeover of PokerStars. Sounds fantastic, isn't it? Precisely because the takeover result was next to impossible, two top executives from Amaya Inc. came under scrutiny from AMF. Unusually active trading in the company's stock also got into the sight of Britain's Financial Conduct Authority, the Ontario Securities Commission, the Investment Industry Regulatory Organization of Canada, and Wall Street's self-regulator, the Financial Industry Regulatory Authority (FINRA).
AMF KNIGHT MOVE
The AMF executed search warrants on three companies: Amaya, the Dorval branch of Manulife Securities Inc. and Amaya's lead financial adviser Canaccord Genuity Corp. The affidavit for that search warrant said that the investigation had revealed that:"Certain individuals in possession of information exempt from disclosure forwarded that information to concerned parties. They immediately took an advantage of that sensitive information and traded on Amaya shares heavy trading."
AMF won court approval to take possession of all computer memory cards, data keys and other storage devices used by three Amaya employees. In December 2015, AMF seized documents and records of communications from the online gambling company's CEO and co-founder David Baazov and CFO Daniel Sebag.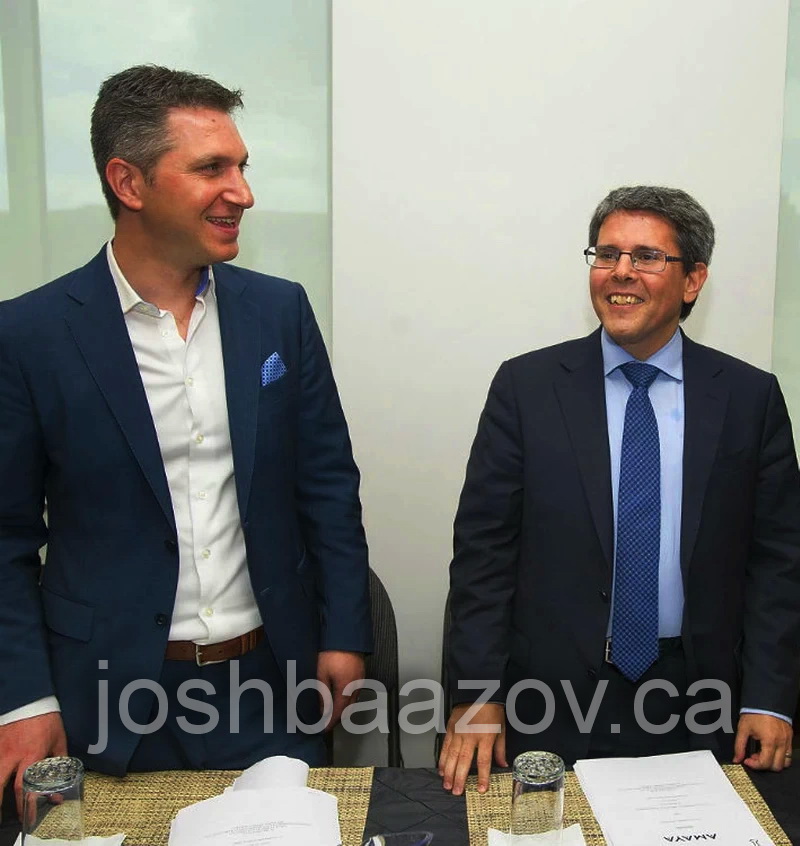 David Baazov & Daniel Sebag
Then AMF originally released a 3-person list of people involved in their investigation: David Baazov, Yoel Altman, and Benjamin Ahdoot – David Baazov's childhood friend. The Baazov brothers' criminal network was clearly made up of closed ones. Time-tested accomplices like Benjamin Ahdoot were perfectly woven into Ofer's web of lies, fraud and scams.
It is a known fact that during investigating trading in Amaya's stock regulators were interested in two prominent officials, Stuart Raftus, CEO of the Bay Street firm's wealth management unit, and Peter Kirby, a top broker.
FINRA KICKS INTO ACTION
The Financial Industry Regulatory Authority (FINRA) routinely produces lists of investors who trade in publicly listed company shares ahead of important news. The lists, which do not signal an investigation or imply any wrongdoing, were circulated to companies, bankers and advisers involved in transactions to ascertain whether those who traded Amaya's stock had connections to corporate insiders, bankers or advisers.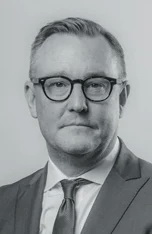 Darren Hunter
The FINRA's algorithms identified more than 300 active Amaya investors ahead of the takeover. That number greatly exceeded the paucity of shareholders typically identified by FINRA when tracking Canadian stocks. According to FINRA's list, it included a broad array of big and small investors. A dozen of Bay Street funds were on that list. Plus, the manager of the Canadian Pension Plan Investment Board was mentioned there. Besides the abovementioned, several fund executives, portfolio managers and a trio of Lebanese banks were listed there.
FINRA identified three investors as David Baazov's friends and business associates. Darren Hunter, Canaccord's head of trading, was also on the list, and the father of Graham Saunders, its co-head of sales. Another investor on the list was Mr. Kirby's father, the Canaccord broker, who was targeted in the AMF investigation. From which it becomes clear that absolutely all people from their close setting and relatives of these people can be involved in the crimes of the Baazovs. Like most mafia structures, Ofer Baazov's criminal network was built mainly on blood ties or close friendly relationships.
A BUNCH OF EVIDENCE AGAINST FORMER GOLDEN BOY
The Autorite Des Marches Financiers securities regulator identified a pattern of kickbacks and illegal deals dating up to five-six years back.

AMF found that several agreements were reached between Baazov, his older brother Josh, a former business partner Craig Levett and numerous individuals. Those agreements included the so-called kickback in the form cash and checks and different luxury goodies like Rolex watches.
Ofer and Levett had a curious gambling-industry past, having previously been described as the owner-operators of BetonUSA, a US-facing website that failed a decade ago, taking with it at least a million dollars in non refundable customer deposits. According to various AMF reports, Baazov and Levett have been linked to the Oddsmaker.com (Oddsmaker. ag) operation. It is possible that AMF still keeps a close watch on David Baazov's ownership share in Amaya (just under 19%). Because it may include shadow-owned blocks of stock on behalf of Josh Baazov and Craig Levett. Each of the Baazov brothers brought at least one very close friend into their mafia family. Ofer dragged Craig Levitt, and David, in his turn, dragged Benjamin Abhoud into their criminal syndicate. No doubt that Levitt and Abhoud dragged their wives into Baazovs' dirty deeds. This conclusion can be drawn from the fact that the name of Nathalie Bensmihan, Craig Levett's wife, also appeared in the AMF investigation. These facts seed the idea that it was worth paying attention to the finances and activities of the main suspects' relatives in the course of the investigation.
It was clear that these arrangements had been negotiated years ago and showed a high level of sophisticated organizational skills. The underlying concept was in communication via email. That was the way all the conspirators got specific details of each share transaction to calculate the exact amount of compensation they would receive.
Thanks to seized documents and records, AMF found an e-mail dated June 25, 2014. It was from Isam Mansour, who used to work with Levett and Josh Baazov at a company named Blackbelt as a consultant. That email indicated the initiation of a deal to kickback 10% of any profits after tax and costs made via insider share trading on Amaya's imminent acquisition of Rational Group.
Likewise, Mansour was a shareholder in Zapha Holdings. Zapha is a holding company licensed in the British Virgin Islands which has ties to BetonUSA and Oddsmaker, at least according to the AMF. Goulissa Baazov, sister to David and Josh, is also a shareholder in Zapha Holdings. And this is just another confirmation that the Baazovs ' dirty business is based on blood ties, which means that all of David and Josh's closest relatives are involved in all scams, money laundering and other crimes against Canadian and American citizens.
A similar arrangement, about the early-2013 purchase of WMS Industries for $1.5 billion by rival gaming technology firm Scientific Games Corporation, was found in seized materials. On the morning of January 16, 2013, the Baazov brothers held a meeting, after which Josh exchanged text messages with Levett. Then Levett cooperated with his wife, Nathalie Bensmihan, brother and other confidants and made trades that netted over $170,000 before sending an e-mail to Josh entitled "WMS" with the following text: "This is what we owe to your brother. I have a check for him tomorrow".
RELIGIOUS ISSUE
In June 2015, AMF seized $87,000 in cash from Montreal's Centre Chabad, suspecting the donations from ex-Amaya consultant Craig Levett were a profit from insider trading.
The AMF found a bag containing $4,350 in 20 dollar bills in the vehicle belonging to Rabbi Shalom Chriqui while executing a search warrant on the centre. The Centre Chabad says the money was illegally seized because it was found outside the address listed on the warrant and without evidence tying the cash to a crime.
It was absolutely clear that the Baazovs lost everything sacred, and their religion, along with its members and traditions, was just an instrument for money laundering.
Baazov Falls
In March of 2016, David Baazov was charged by the AMF (Autorte des Marches Financiers) with insider trading. The AMF filed 23 different charges related to the case. Five of them were filed against David Baazov.
The AMF charges were for aiding trades while in possession of privileged information, sharing privileged information and influencing or attempting to influence the market price of the securities of Amaya Inc. The AMF also charged Yoel Altman and Benjamin Ahdoot among others, respectively, four and six charges, in particular for trading while in possession of privileged information and influencing or attempting to influence the market price of the securities of Amaya inc.
AMF also charged David for that he may not have been the sole owner of Amaya as he claimed.
Essentially, David Baazov was listed as the sole owner of Amaya back in 2007. However, from an agreement the AMF claimed to have discovered on Josh Baazov's phone it would appear David was holding up to 75% of those shares for Josh Baazov, his brother, and Craig Levett. David was listed on the shares as owner but the agreement shows that he was simply Josh and Levett's "nominee shareholder" on those 75%. It means that David actually owned only 25 percent of the company.
Also, AMF opened a related but separate, non-penal case. In the realm of that case, AMF executed search warrants and obtained freeze and ceased trade orders against 13 people including Josh Baazov and Craig Levett. The two men worked together at firms called Blackbelt and Baalev, both of which did consult for Amaya, according to the AMF.
It was clear that Pokerstars takeover by Amaya wasn't the only deal manipulated by Baazovs and Co. The list goes on, and apparently Baazov and his associates somehow manipulated such companies as WMS Industries, Chartwell Technology , bwin, The Intertain Group Limited, and the Oldford Group.
Little David was forced to take an unpaid leave of absence in March 2016. And then, he resigned on 11 August 2016. Baazovs were alleged to have realized a profit of close to $1.5 million between 2011 and 2016. But it was definitely a bigger profit.
A complicated knot of Baazovs fishy dealings started to untie.